A trip to Uganda, "The Pearl of Africa", is an amazing trip to an ancient African kingdom in the heart of the continent. There is less tourism in Uganda than in its neighbors in East Africa, and therefore it provides the tourist with an authentic meeting with wildlife and interesting African cultural customs.
The wilds of Uganda contain all the good things that Africa has to offer: traditional culture, breathtaking views, safari reserves, encounters with chimpanzees, dense rain forests, treks, extreme rafting in the Nile, horseback or all-terrain vehicle trips in the villages, sunset boat rides on the Nile, waterfalls, lakes and many other experiences for the whole family.
In Uganda, we will, of course also encounter the mountain gorillas in their natural habitat, in the Bwindi Impenetrable Forest, one of the only places in the world where one can view mountain gorillas from close up in their natural environment.
In a kosher trip in Uganda, you will experience nature to the full, as well as encountering fascinating cultures and mesmerizing views. You will also enjoy luxury hotels and lodges in all of Uganda's parks and reserves, comfortable jeeps and, of course, kosher meals that will be delivered to your hotel wherever you will be.
Exclusive for those who travel with Africa Kosher Travel: a visit to the historic terminal in Entebbe, where the 'Operation Entebbe' took place on the Fourth of July, 1976.
In short, it will be quite an experience – a unique trip with attractions, impressive game reserves, history and lots of adrenalin, all packed into one unforgettable trip!
The goal of the staff of Africa Kosher Travel is to be intimately acquainted with Uganda, to find the best hotels and to have good relationships with them in order to construct the best and most professional trip for you, with the most attractive prices as well.
YOUR AFRICAN EXPERIENCE STARTS NOW!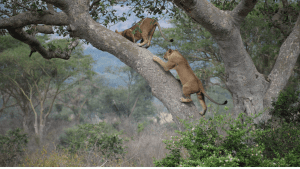 Ishasha Park in Uganda is a unique and fascinating destination for wildlife enthusiasts and adventure seekers. Situated in the southwestern part of the country, Ishasha
Read More »