The lake is located 120 km from Nairobi and only 2 km from the city of Nakuru, which has 300,000 residents.
Lake Nakuru is a shallow soda lake in Kenya, located on the African Rift Valley. The lake was declared a national park in 1961 and in 2011, together with Lake Elmenteita and Lake Bogoria, it was also declared as a UNESCO World Heritage Site. The entire site covers an area of about 200 square kilometers.
The Nakuru reserve is one of the newest reserves in Kenya, and was established less than 60 years ago. The reserve is the home of thousands of animals such as lions, leopard, hippopotamuses, giraffes, African buffalo, warthogs, rhinos, antelopes, deer and a vast variety of rare and magnificent animals and birds.
Among the many animals living in the reserve are about 30 black rhinos and about 60 white rhinos. This reserve has one of the largest rhinoceros concentrations in Kenya.
The most prominent and unique place in the reserve is Lake Nakuru, which is packed with about one million flamingos, similar to other lakes in the area (a million flamingos can't go wrong…), and create an amazing sight of a pink lake. This is the most beautiful bird show in the world.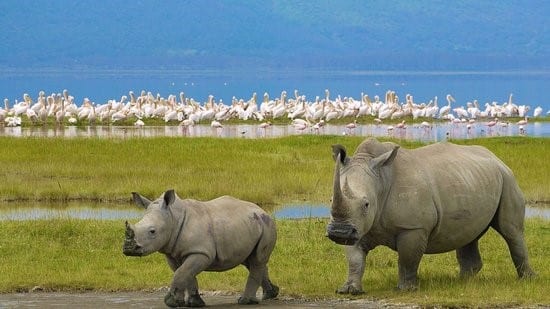 The lake is surrounded by lots of vegetation. Its main component is the acacia trees, which are surrounded by hundreds of different species of plants.
Around the lake, inside the reserve, there is a variety of luxury hotels offering the guests luxury services. These include waking up in the morning and immediately on opening your eyes seeing the magnificent lake from your bed, comfortable seating areas, observation points and a cool and refreshing pool under the open sky.