94 km from Nairobi, a 2-hour drive.
The lake's area: 139 square kilometers.
This is the highest lake in the area of the African Rift Valley. Its height is estimated at approximately 1890 meters.
Naivasha is a quiet, magical and pastoral place. The place is a huge agricultural area that includes farms for raising cattle and greenhouses for growing fruits, vegetables and especially flowers. A large part of the agricultural fields and greenhouses are owned by Jews.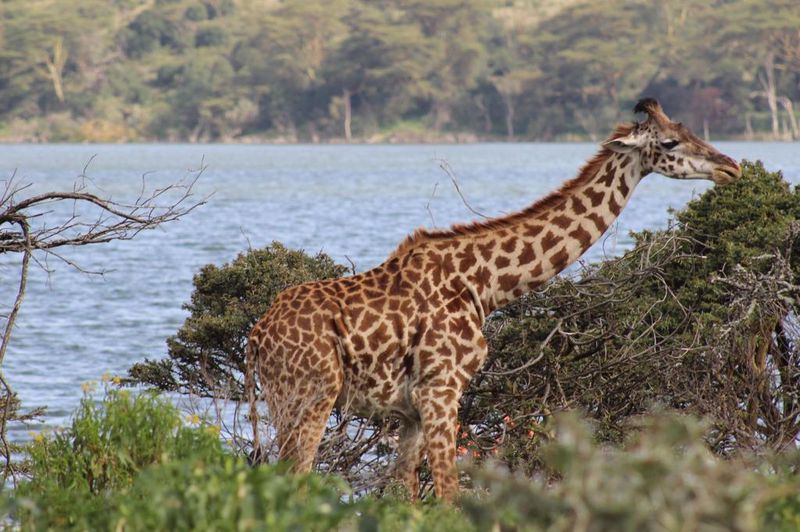 The lake is a volcanic crater that contains freshwater. It's a small reserve filled with varied greenery, attracting many birds and is a magnet for tourists. In the reserve you will be able to see mammals such as giraffes, antelopes, zebras, monkeys and more.
In the lake, among others, live the hippopotamuses. Most of the daylight hours they stay in the water in order to cool down and as it becomes darker come out on the land to eat. The hippopotamuses are territorial and very aggressive. At this stage, you better keep your distance…
Around the lake, there are a number of luxury hotels surrounded by huge beautiful areas facing the lake. The animals walking freely between the tourists create an intoxicating and harmonious atmosphere of nature and people. You will not be able to find such a winning combination anywhere. The hotels are surrounded by electric fences (in case you are concerned).
In the center of the Naivasha Lake, there is a famous peninsula known as the "Crescent Island". This is a unique and extraordinary nature reserve, and an especially enjoyable experience when traveling with children. This is a reserve which is mostly privately owned and reached by boat. On board the boat, you can take a close look at the hippopotamuses and the water birds in the lake. This is one of the only reserves where you can enjoy a walking tour in a safari between the animals. The Island has no carnivorous animals and the animals in it are mostly gnus, giraffes and zebras.
If you are already visiting the lake, it's recommended you also take a short excursion to Elsamere to the home of Joy and George Adamson, whose lives were devoted to the preservation of nature and the rescue of orphaned lions. Their home now serves as a museum dedicated to preserving their heritage. The couple adopted the orphan lioness Elsa, which was the first to successfully acclimatize to nature after living among humans who took care of her devotedly. Her story was also commemorated in a book and film called "Born Free."